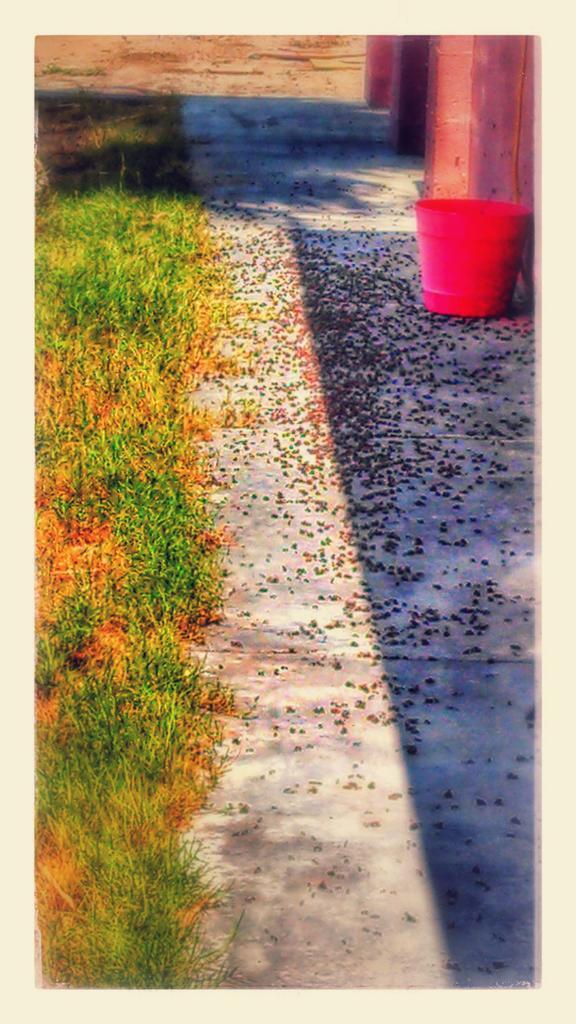 If you happen to step outside this time of year and happen to notice a spectacular swarm of flying ants, don't be alarmed! This is an actual common summer phenomenon! Winged ants issuing in massive numbers began falling out of a palm tree in our yard today! It felt as if my home had been a victim of some evil curse, for my walls and sidewalks were crawling with these creepy little flying crawlers!
Swarms of Lasius niger (the common black ant) release their wings and take flight around mid July, usually after a heavy rain, in an annual mating ritual. The male ant then drops dead immediately after their mid-air sex, having outlived their usefulness. Many of the females end up dieing as well.
The newly inseminated females that have survived shed their wings and set off to start new colonies as Queen ants. They store the left over sperm in a sac, and use it when they lie eggs in the future, rather than mate again.
There are hundreds of thousands of these ants taking to the air, and only a few survive to keep the species going. I watched these ants fall from the sky through a bedroom window. They would fall in a cluster of about six to seven or more ants, once they hit the ground ants would run over and pull them apart. Some of the ants would lay there and squirm as other walked off into the grass. It was quite interesting! Now that I know what they were doing I feel a little dirty for watching! *giggle* It was quite an impressive sight, seeing a cloud of flying ants scramble out of their nearby nest!
So if you happen to witness this crazy phenomenon, don't be alarmed! They will be gone as quickly as they came (no pun intended)! As a matter of fact no one would believe you if you told them, you just had millions of flying ants falling from the sky unless they were there to witness it! In all my life I have never seen anything like it, but glad I did!! I continue to learn something new every day! Have a wonderful day and don't forget you umbrella in case the sky starts falling...apparently it's that time of year!! :)